Extinguisher, Fire Extinguisher, Fire Protection Equipment, Fire Alarm, Prevention
Extinguisher, Fire Extinguisher, Fire Protection Equipment, Fire Alarm, Prevention
Birmingham Fire Control
Fire Extinguishers, Fire Protection Equipment, Fireproofing & Fire Stopping, Flameproofing Materials, Restaurant Equipment-Repairing & Servicing, Steam, Pressure & Chemical Cleaning-Systems & Equipment
Serving Fort Erie, Grimsby, Lincoln, Niagara-on-the-Lake, Niagara Falls, Pelham, Port Colborne, St. Catharines, Thorold, Wainfleet, Welland and West Lincoln, Hamilton, Burlington
Fire protection is an organized industry designed to reduce the risk of personal injury, losses and environmental harm.  In the event of a fire, fire protection and control procedures provide emergency preparedness.  Fire safety is a component of building safety.  Protocols must be followed to the letter of the NFPA law.
"I didn't know" is not an excuse.
Good service, they keep their promises
We called Birmingham fire to do the fire suppression system for our restaurant Damascus Donair Mike did everything for us in the right way and helped us a lot to open our business. Thank you so much your are the best
Amazing staff quality work. Fair prices. Always satisfied with service
Amanda MacDonald
2022-11-08
Had my vents cleaned Monday and what a amazing job. The 2 men that did the work went above and beyond in my opinion. Mike was amazing to deal with. Had no issues scheduling around my busy schedule. What a kind hearted man! They definitely care about the work they do!! Thanks again from the pizza house!!
Bocchinfuso Funeral Home
2017-08-01
We were very impressed with the knowledge that Joe had and shared with us. He took time to explain the codes and regulations and the reasons behind them. Thank you for the excellent service.
What is fire protection?
The aim of a fire protection system is to protect a building's occupants and minimise the damage associated with fire. Overall, the goal is to provide the widest possible window for a safe evacuation, whilst also reducing potential repair costs..
Compartmentation
Fire safety regulations specify that a building must be 'compartmentalised' into manageable areas. To stop smoke from passing through these areas, specialists will install fire doors, walls, and cavity barriers. Fire protection boards are also an important part of compartmentation. They're designed to absorb heat rather than conduct it, and don't shrink when exposed to high temperatures. Fire stopping solutions are used to seal around service penetrations. If a fire breaks out in a certain compartment, the fire integrity and insulation of the surrounding compartment helps to confine high temperatures and smoke to the specific area.
What is fire prevention?
Fire prevention systems are put in place so a building's fire load is as low as it can possibly be. 'Fire load' is a term used by fire protection professionals to determine the potential severity of a fire in a building, based on the presence of certain hazards. Essentially, fire prevention reduces the likelihood of a serious fire. By safely storing combustible materials, and taking care of points of ignition (such as heating systems and plug sockets), we are reducing the risks associated with fire.
What is fire suppression?
The sole objective of a fire suppression system is to extinguish a fire as quickly as possible. Once occupants are alerted to the presence of a fire, the system will begin to emit a concentrated substance to suppress the flames. The exact nature of this substance can vary, based on the environment the system is designed to protect. Common examples include carbon dioxide and inert gas, as well as a range of both liquid and dry chemical agents.
Birmingham Fire Control Services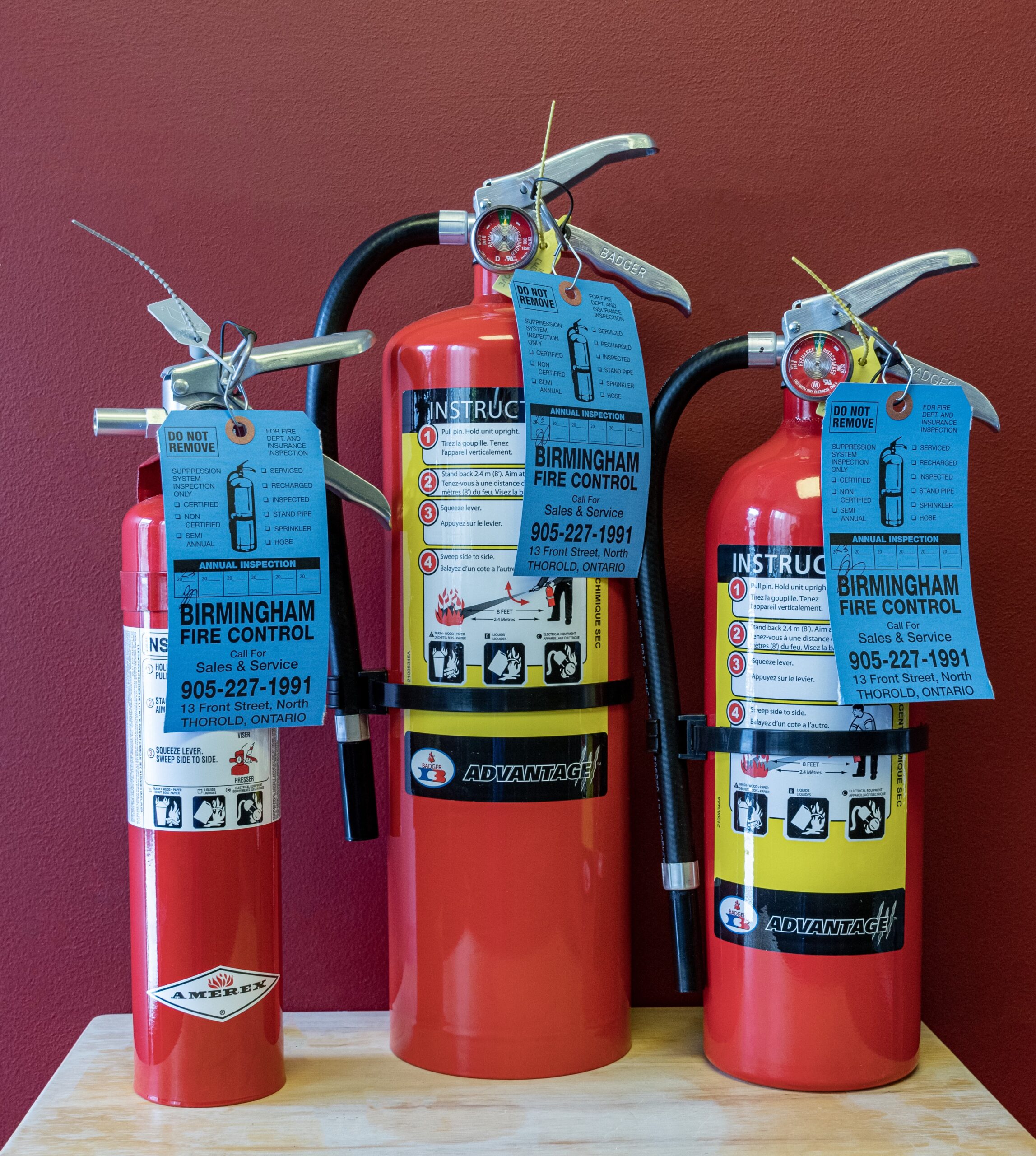 Fire alarm systems (Install, Maintain, and Monthly/Annual Inspections)
Fire alarm monitoring
Fire safety plans
Exit and emergency lighting
Fire extinguishers (Inspection, Maintenance, and Sales)
Suppression systems (Sales, and Servicing)
Mobile pressure washing (Kitchen Hood, Shaft, Fan, Filters and Appliances)
T.S.S.A services (Gas, and Propane)
Kitchen Hood/Kitchen Fan installation and repair
Sprinkler installation
Fire hydrant inspection and servicing
Backflow inspections and repairs
Makeup air unit replacement and repairs
Birmingham Fire Control
Serving Fort Erie, Grimsby, Lincoln, Niagara-on-the-Lake, Niagara Falls, Pelham, Port Colborne, St. Catharines,
Thorold, Wainfleet, Welland and West Lincoln, Hamilton, Burlington